Transcorp Hilton Abuja supports the Fight against Cancer in Nigeria
The management of Transcorp Hilton Abuja received a courtesy call of Project PINK BLUE team who visited to appreciate the contribution of the premier hospitality company in the fight against cancer in Nigeria. It would be recalled that Transcorp Hilton, Abuja supported the Walk, Race and Cycle against Cancer as well as the Commemoration event on the 4th and 7th of February, 2017 respectively. Mr. Etienne Gailliez, the General Manager of Transcorp Hilton Abuja commended Project PINK BLUE for their advocacy and community driven activities, he said, "cancer is a health challenge that everybody should support and ensure that anybody impacted by cancer lives a quality life. We at Transcorp Hilton Abuja supports worthy causes. We have a cancer survivor in the hotel and we support in any way that we can".
Runcie C.W. Chidebe, Executive Director of Project PINK BLUE, expressed the commitment of the organization in the fight against cancer, he said, "we sincerely appreciate the support of Transcorp Hilton Abuja to the fight against cancer in Nigeria. This is highly commendable. Through your support we launched the first breast cancer support group in Abuja with 9 breast cancer survivors and patients, as at today we have 28 breast cancer survivors and patients. With collaboration of this kind, we can do more and reach out to people with life saving information and financial support".
Chidebe presented the World Cancer Day 2017 official report to Transcorp Hilton Abuja on behalf of the team, while Peace Emezue, the Patient's Care & Fundraising Officer presented the cancer lapel pin and advocacy plaque to Mr. Gailliez.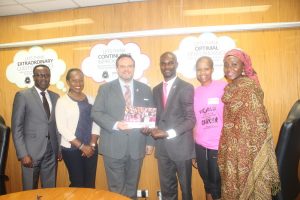 In his closing remark, Mr. Etienne Gailliez said "I am pleased that Project PINK BLUE team came back to appreciate the hotel for their support in making the World cancer Day 2017 a success. You are always welcomed here, we look forward to next year". Shola Adeyemo, Public Relations and Marketing Manager, and Ms. Ijeoma Osuji, Public Relation and Marketing Executive, Transcorp Hilton Abuja also expressed their appreciation as well. While, Sarah A. Dantsoho, Patient Navigator and Emeka Nwagboso, Programme & Communication Officer, were among the Project PINK BLUE team.
The 2017 World Cancer Day Walk was really impactful as one hundred and one (101) women received cervical cancer screening (4 women were found with abnormal cervix, 3 has been treated and 1 referred for additional diagnosis); twenty four (24) men received free prostate specific antigen test and the result showed all negative; eighty (80) women received free clinical breast examination and twelve (12) women identified with positive results/abnormalities are currently being followed up and navigated to the next level of care; while some have been referred for free treatment in the case of cervical cancer. We saved lives! This would not have been possible without your support. Learn more: video: http://bit.ly/WorldCancerDayWalk2017 , pictures  http://bit.ly/WCDComPix2017 , Walk: http://bit.ly/WCDWalkPix2017 , you can also visit: www.projectpinkblue.org